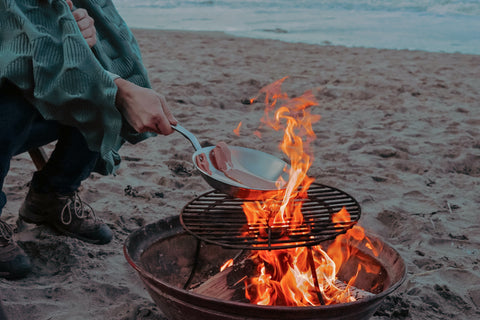 When packing for a camping trip, you need to ensure that none of the essential pieces of cooking equipment is left behind; a checklist will come in handy. Having all the necessary cooking equipment makes preparing meals convenient and entirely worthwhile during a camping trip. 
What are the must-have cooking essentials?
Let us explore some cooking equipment that must feature on a trip—with these, whipping up meals will be easy and enjoyable. 
Camping stove
For hassle-free cooking during your upcoming camping trip, consider bringing along a camping stove. Whether a tabletop or a dual burner, this is an essential piece of equipment that facilitates easy cooking. 
But take the necessary precautions as you cook. It is not advisable to cook in your tent, motor home or caravan to minimize the risk of a fire. Cook in a space with adequate ventilation to prevent carbon monoxide buildup. 
Of course, you will need some reliable fuel to fire up the stove gas. Either butane or propane will get the job done. Gas is clean and portable, making it the most favoured fuel for camping expeditions.
Pots and pans
Invest in the best camping cookware such as pot and pans for hassle-free cooking while camping. You will find a wide selection of them in the market. 
Opt for camping-dedicated cookware as it is strong and light for easy packing. Bigger pans and pots will come in handy if you will be cooking for a mammoth crowd while camping.
Dinnerware
It can be frustrating to cook a delicious meal only to realize you didn't carry the right equipment to drink and eat from. If you are serious about camping, buy some reusable dinnerware such as bowls, plates, mugs, cups, serving dishes, etc. 
Camping table
Why carry every other cooking equipment but leave out a camping table? You will need a place for dining and resting, so carry one. 
A camping table is versatile, allowing you to play board games or card games as the meal cooks on the stove. Couple it with the most comfortable camping chair so you can relax better as you enjoy the outdoors. 
Washing up equipment
Don't allow dirty pans, pots and utensils to pile up. Try to clean up after every meal to ensure a clean camping environment. For easy cleanups, tea towels, washing liquid, dishcloth and a scouring pad will come in handy
Wrapping up
Having all the right cooking equipment at the campsite will make the experience more memorable. After all, nothing brings people together more than food.